Regular price
Sale price
$34.97 USD
Unit price
per
Sale
Sold out
According to legend, diceologists of old would store their most sacred dice sets hidden inside a carved out book so that the dice goblins would never find them. Using this ancient technique, the skilled craftsmen at the Vault have created the Diceology Archive, a one of a kind dice portfolio case. With it you can store 6 of your best dice sets, use the inner molding as a dice tray, and even store your character sheets and various notes inside! The Diceology Archive is truly an all-in-one dice storage solution.

*Dice pictured are for display purposes only and are not included.
FEATURES:
- Sturdy molded poly-ethylene vinyl material
- Heavy duty dual nylon zipper
- Matte finish with rubber coated embossed Diceology logo
- Lightweight and built to last 

DIMENSIONS:
10" x 7" x 1.75" (25.4 x 17.7 x 4.4 cm)
SHIPPING
Please allow 2-3 business days for order processing.
USPS tracking number will be emailed to you as soon as its shipped.
See our

 

Shipping FAQ

 

for more info.
Share
View full details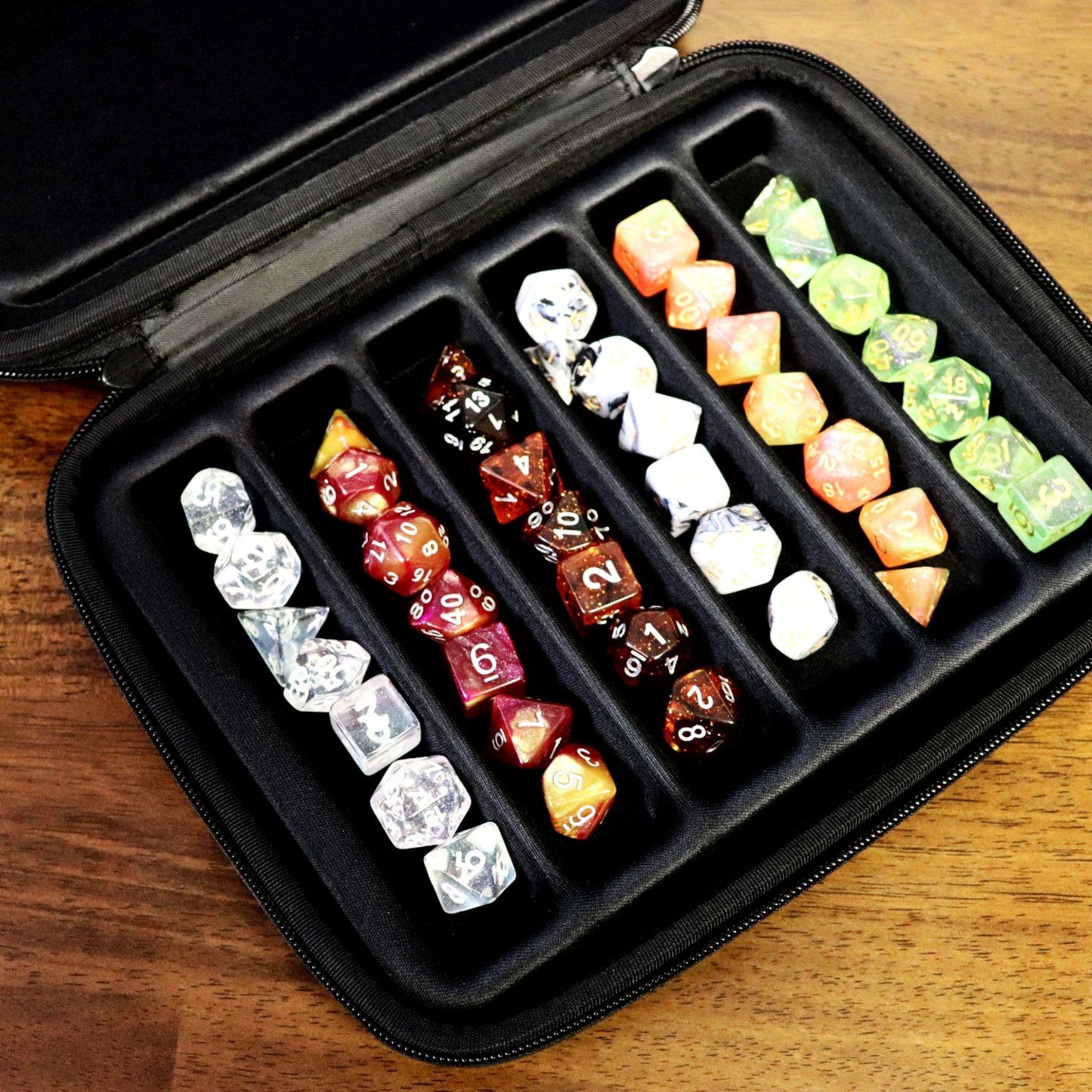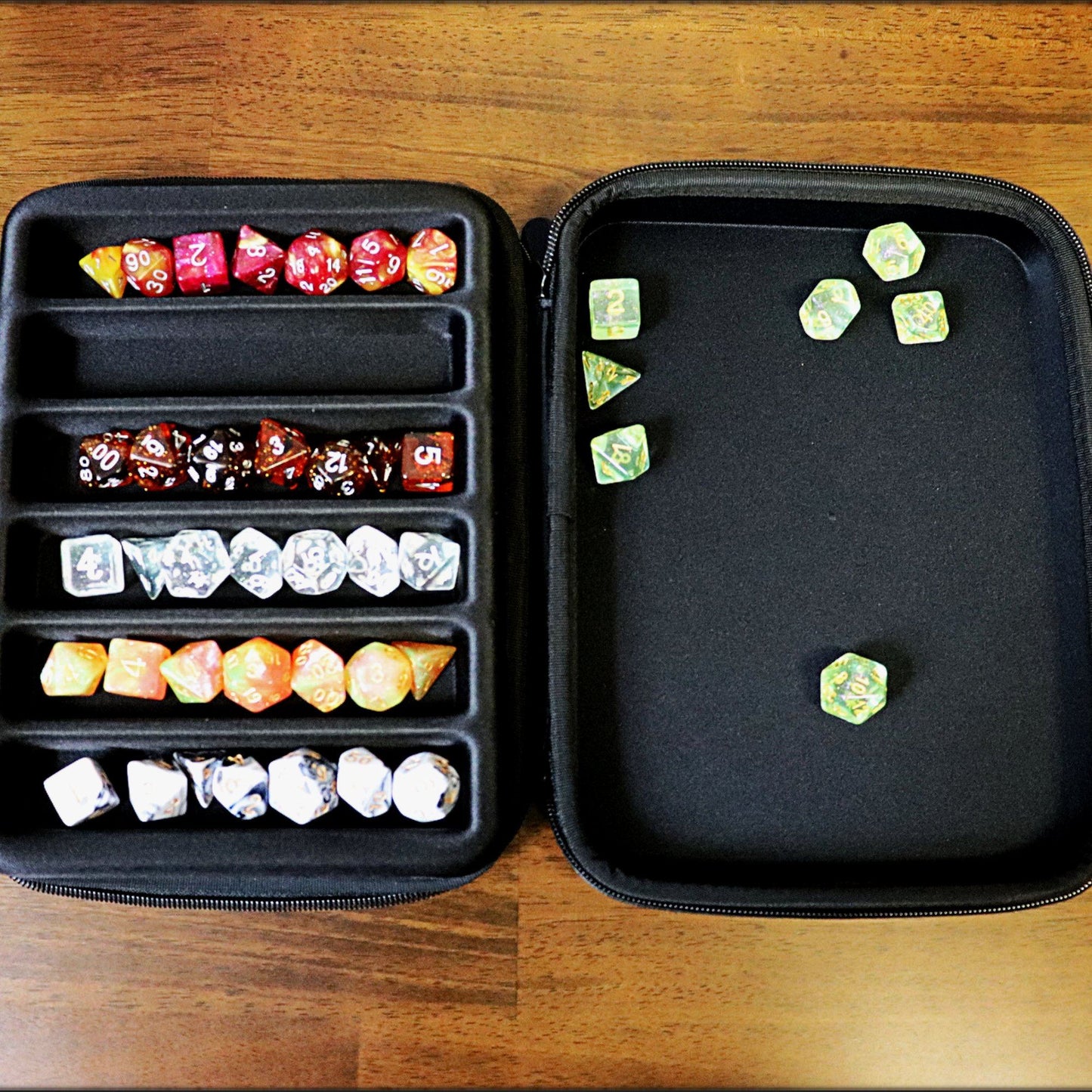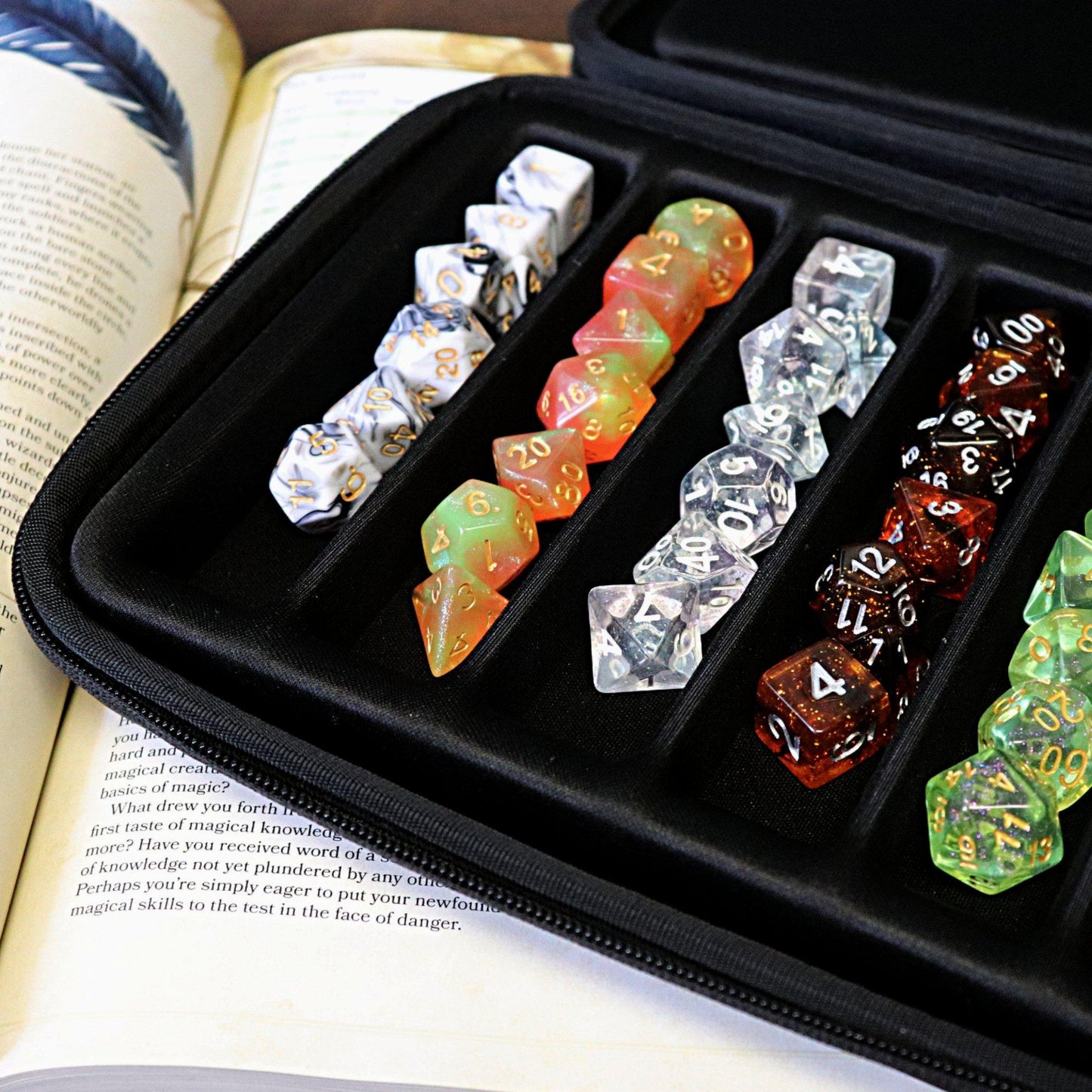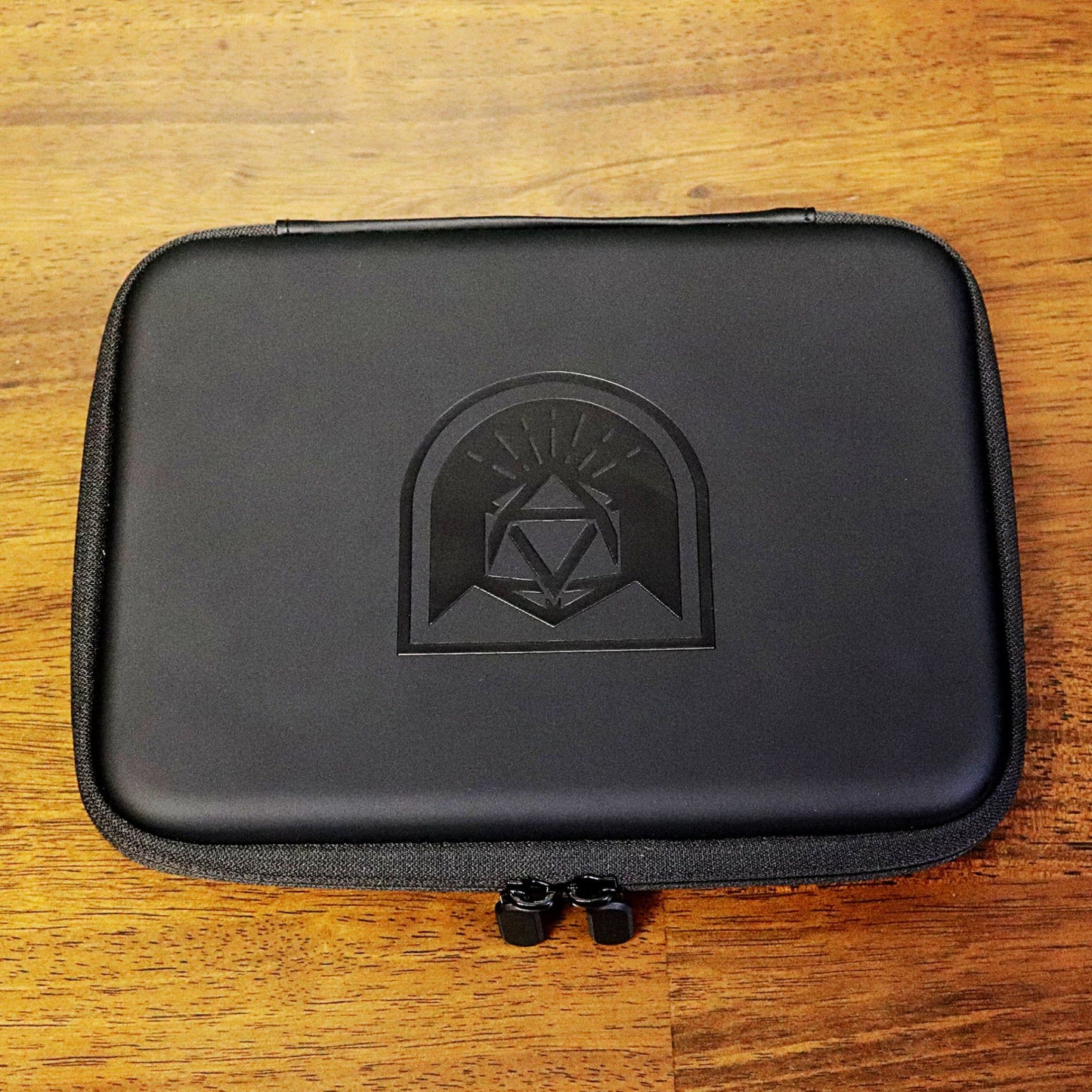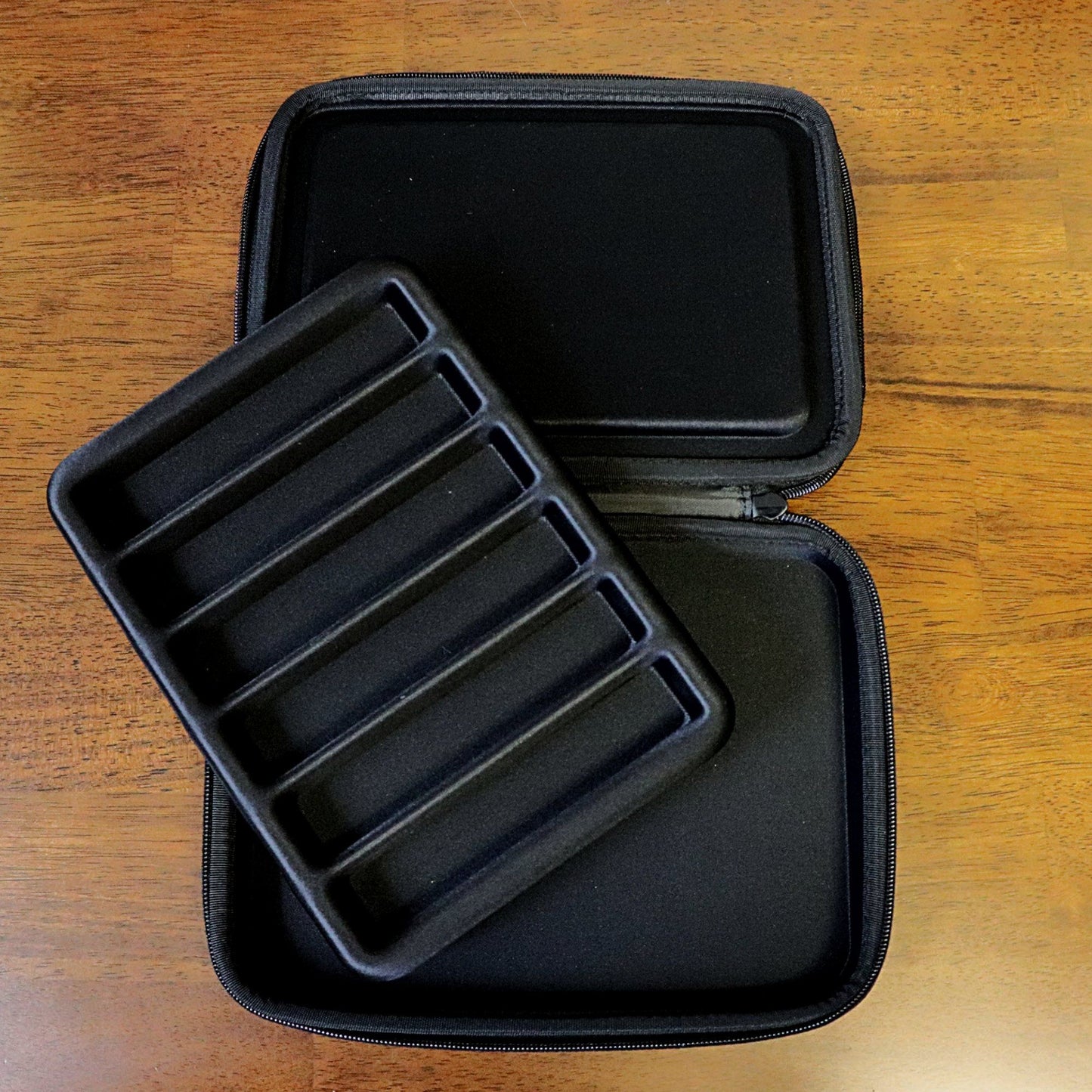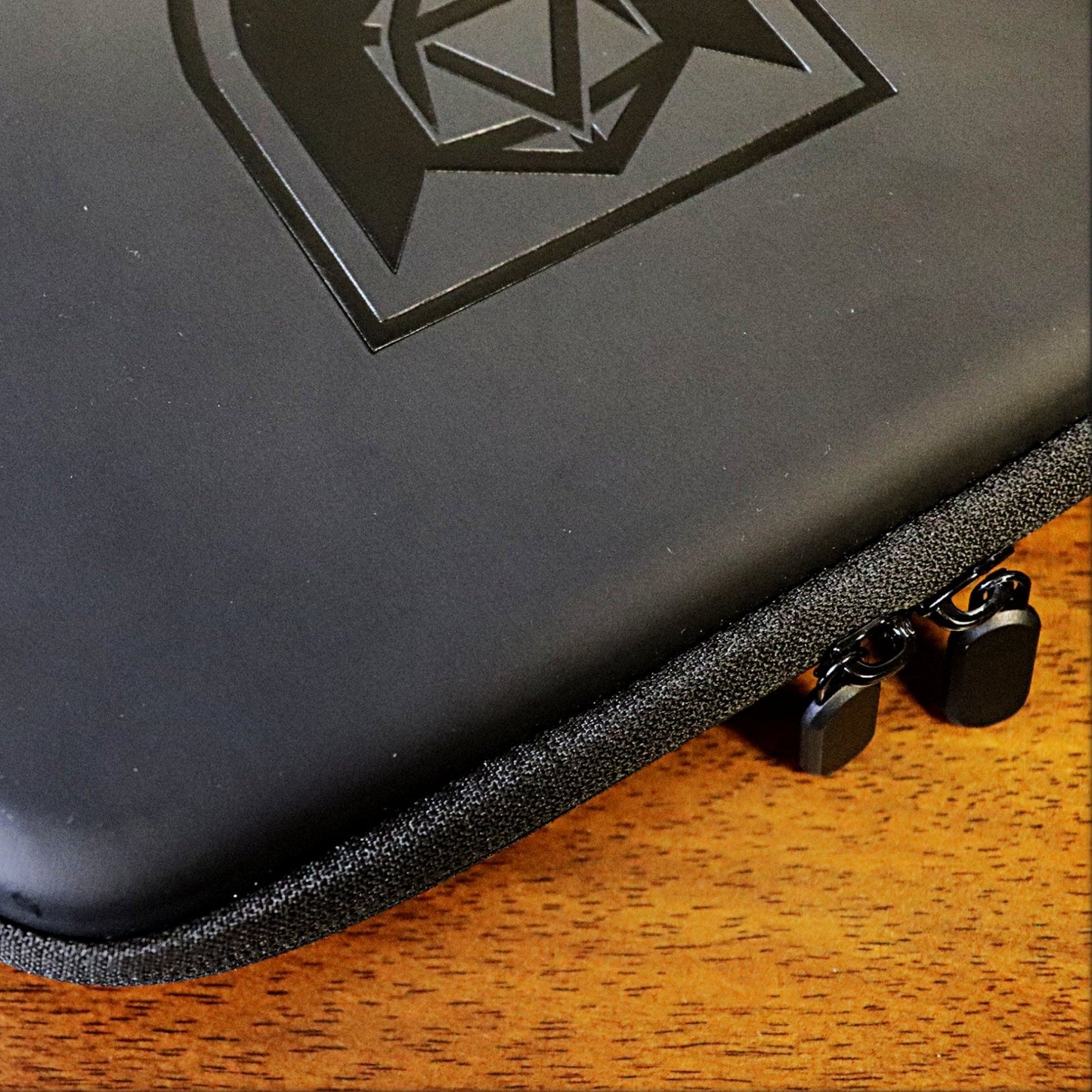 Product reviews from our Etsy shop
Definitely worth buying!!! I love this dice tray and being able to organize my dice! It's well made, the dice don't mix up whe...

Read More

Definitely worth buying!!! I love this dice tray and being able to organize my dice! It's well made, the dice don't mix up when it's zipped up and there is a place to roll right under the tray.

Hide

Posted on

This was such a worthwhile purchase! Perfectly fits all six sets of dice that I have. I wanted to show off my collection for the...

Read More

This was such a worthwhile purchase! Perfectly fits all six sets of dice that I have. I wanted to show off my collection for the review photo haha, but the front of the case is also very nice with a sleek, simple D20 embossing. Highly recommend!

Hide

Posted on

This box was really great!! Well made, dice don't shake around loose inside there. My only qualm is the exterior material shows...

Read More

This box was really great!! Well made, dice don't shake around loose inside there. My only qualm is the exterior material shows fingerprints/grease easily, but I covered my case in stickers so it's not a problem for me.

Hide

Posted on

Sweet gift for my daughter.

Sweet gift for my daughter.

Hide

Posted on

Exactly what I wanted and needed! Perfect for taking all my dice when I'm not playing at home and fits enough sets for me to DM...

Read More

Exactly what I wanted and needed! Perfect for taking all my dice when I'm not playing at home and fits enough sets for me to DM with!

Hide

Posted on

This tray is very well made an looks great. When the case is closed and zipped, each dice set firmly is held in place with no sp...

Read More

This tray is very well made an looks great. When the case is closed and zipped, each dice set firmly is held in place with no spillage. The padding protects the dice, and the case is no larger than it needs to be. The dice tray is strong and perfectly fits the case. It's snug enough to stay in place and protect the dice, but the zipped case doesn't apply pressure and bend the tray. Oversized dice won't fit the trays, so plan to use this for standard dice sets only.

Hide

Posted on

This tray is very well made an looks great. When the case is closed and zipped, each dice set firmly is held in place with no sp...

Read More

This tray is very well made an looks great. When the case is closed and zipped, each dice set firmly is held in place with no spillage. The padding protects the dice, and the case is no larger than it needs to be. The dice tray is strong and perfectly fits the case. It's snug enough to stay in place and protect the dice, but the zipped case doesn't apply pressure and bend the tray. I look forward to ordering more of these.

Hide

Posted on

Great item and fast shipping!

Great item and fast shipping!

Hide

Posted on

Well made, fast delivery and great find. Mine is going to a Christmas gift

Well made, fast delivery and great find. Mine is going to a Christmas gift

Hide

Posted on

Very nice! The case keeps the dice secure and organized while closed, and the compartments are just the right size.

Very nice! The case keeps the dice secure and organized while closed, and the compartments are just the right size.

Hide

Posted on

Exactly as described. Slightly bigger than I thought it would be. Just a plain black case.

Exactly as described. Slightly bigger than I thought it would be. Just a plain black case.

Hide

Posted on

This is perfect for carrying, storing, and rolling my dice!

This is perfect for carrying, storing, and rolling my dice!

Hide

Posted on

Perfect for my growing dice collection! Exactly as described, good quality, and fast to ship. Great transaction!

Perfect for my growing dice collection! Exactly as described, good quality, and fast to ship. Great transaction!

Hide

Posted on

Shipped quickly, as described/shown, would recommend!

Shipped quickly, as described/shown, would recommend!

Hide

Posted on